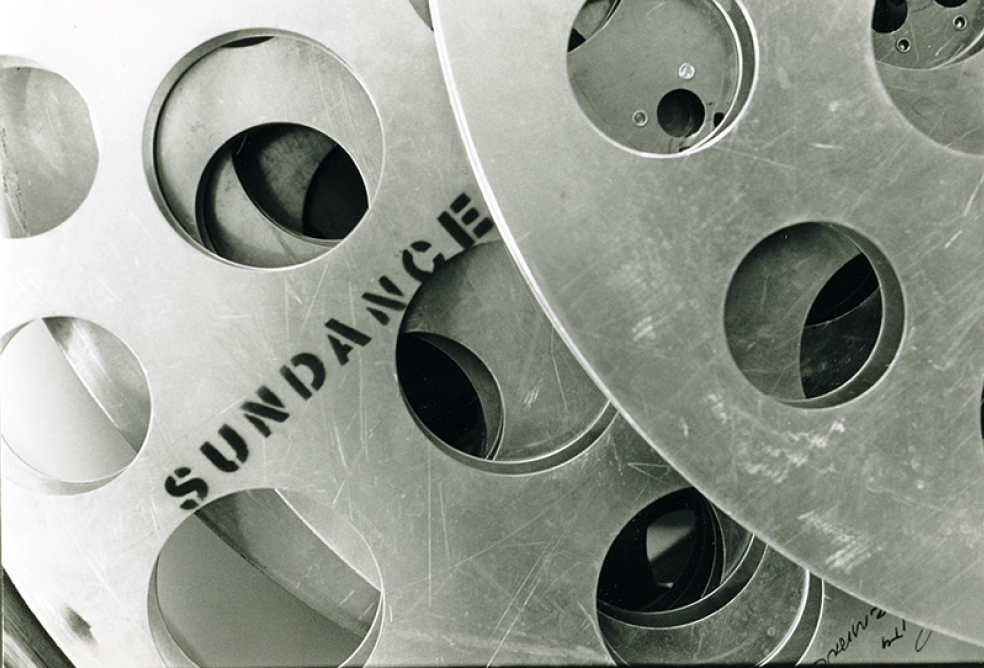 Independent storytellers advance and challenge cultural discourse by creating stories that explore and document the world around us. We are passionate about preserving and sharing these stories for generations to come.
From press kits to posters, films to photos, and scripts to scores, the Sundance Institute Archives & Collection inspires and educates through preservation and access to seminal work of independent artists and the unique history of the organization. By sharing the history of independent storytelling, the Archives & Collection provides an opportunity for discovery and dialogue around creative work and its impact on contemporary culture.
To address the specific preservation risks posed to independent film, Sundance Institute partnered with the UCLA Film & Television Archive to form the Sundance Institute Collection at UCLA in 1997. The Collection at UCLA is home to hundreds of films, and we actively endeavor to rescue those that are at risk and identify titles in need of restoration. Our efforts have brought renewed attention to titles such as Hoop Dreams, Desert Hearts, Reservoir Dogs, El Mariachi, and Paris Is Burning, among many others.
1.5 Million Digital Photos
100K Photos, Slides, Negatives & Contact Sheets
300K Scripts, Press Kits, Posters & Printed Material
500K+ Digital Video Files
5K+ Hours of Video on 3/4", Beta, VHS & Mini DV
2,500,000+ Assets in the archives
714 Films Preserved in the Collection
1547 VHS Tapes & DVDs in UCLA's Powell Library Archive Research and Study Center
Contact Us
For more information, please email us at archives@sundance.org.
Explore our digital archive to discover all the independent artists and stories supported through Sundance Institute's labs and festivals.
The work you create is vital to both the history of independent storytelling and the heritage of Sundance Institute, and we strive to protect and preserve your stories. In addition to providing a safe and secure home for your film, we offer tips and guidelines to help ensure your work is not lost, no matter the medium or platform you use.
Please help us protect your stories by taking advantage of our services and contacting our knowledgeable staff. Digital preservation is ever-evolving, so always feel free to ask questions and share your findings with us at archives@sundance.org.
The Sundance Preservation Fund was established to help protect and preserve independent stories, which are vital to both the history of independent storytelling and the heritage of Sundance Institute. The Fund provides grants to support preservation and restoration efforts of Sundance-supported projects and empower independent storytellers with resources to develop a sustainable long-term preservation strategy. Supported projects include Genghis Blues, The Incredibly True Adventure of Two Girls in Love, Fe26, The Subconscious Art of Graffiti Removal, among others. The Preservation Fund is not currently accepting applications at this time, but please check back in spring 2024.
Independent films often fall victim to loss or damage because of changing ownership, poor storage, closing labs, or neglect. As a result, quality prints can become difficult or impossible to find, even for films made as recently as a few years ago.
If your film screened at the Sundance Film Festival or was supported by any of the Institute's artist development programs, you can preserve it in the Sundance Collection at UCLA, which will protect your film from damage and loss and ensure that it'll stand the test of time.
Help us protect the history of storytelling, champion independent voices, and inspire the stories of tomorrow. Support the Archives & Collection by becoming a member of Sundance Circle.