[Above: Green Room]
By Stephanie Ornelas
Put on your blue suede shoes (or black if you're Johnny Suede) because today is National Day of Rock 'n' Roll! We're stoked to share these 10 films that showcase both trailblazers in rock music and the eccentric superfans who help make the beloved genre what it is today.   
We all have a musician who inspires us, a song that helps us get through those difficult times we feel no one understands. And the films below tell stories of how rock music has influenced, and continues to influence, millions of listeners around the world.
So, settle in, but don't get too comfortable, because you might find yourself back on your feet. Here are 10 rock movies to amp you up today… and every day after for that matter. Consider adding these electrifying movies to your film queue as you celebrate today. 
Rock on! 
Johnny Suede (1992 Sundance Film Festival) 
When Johnny Suede (Brad Pitt) finds a random pair of black suede shoes, he immediately thinks they're a sign that musical success is just around the corner. A struggling young musician and devoted fan of Ricky Nelson, Johnny wants to be just like his idol: a rock star. But financial hardships and a complicated romantic relationship may teach him that there's more to life than a pair of suede shoes. 
"Tom DiCillo's feature-film debut is an unusual moral tale set in the cool nouveau-retro fringes of New York. Johnny Suede judiciously mixes the dark, hard edges that anchor the story in the real world with the delicious humor provided by the solid performances of its actors," writes Alberto Garcia in the Festival Program Guide. 
Before screening at the 1992 Sundance Film Festival, Tom DiCillo's film was supported through Sundance Institute's Directors Lab in 1990. Available for purchase on DVD.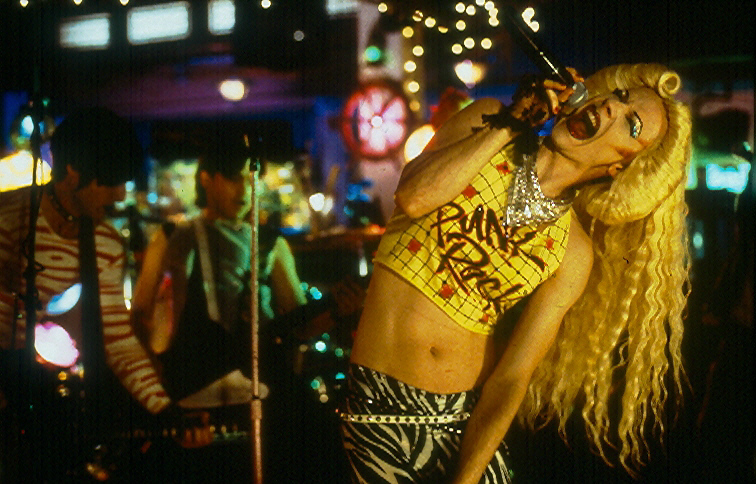 Hedwig and the Angry Inch (2001 Sundance Film Festival) 
John Cameron Mitchell's adaptation of his critically acclaimed off-Broadway rock theater hit is centered on Hedwig (Mitchell), a genderqueer rock singer from East Berlin who plays small venues around the U.S. with her band in search of stardom and love while following her former lover/bandmate who attained success by stealing her songs. 
"A beautiful and transcendent spiritual journey, this brilliantly conceived musical is every bit as powerful on screen as it is on stage," writes Shari Frilot in the Festival Program Guide. "Hedwig and the Angry Inch seems destined to take its place beside The Rocky Horror Picture Show as a cult classic for a new generation."
Mitchell's film was supported through Sundance Institute Directors and Screenwriters Labs in 1999 and won a directing award and the audience award in the Dramatic Competition at the 2001 Sundance Film Festival. Check here for viewing options. 
Nowhere Boy (2010 Sundance Film Festival) 
In Sam Taylor-Johnson's drama, the story of former Beatle John Lennon's teenage years is brought to the screen as it examines his relationship with the two most important women in his early life: his mother, Julia, and his Aunt Mimi.
"British artist Sam [Taylor-Johnson] sees this formative period of John Lennon's life as a way to explore a maturing artistic sensibility," writes John Nein in the Festival Program Guide. "Nowhere Boy avoids biopic nostalgia, focusing instead on an adolescent soul discovering his voice. 'Nowhere' proves an important part of the journey." Check here for viewing options. 
The Runaways (2010 Sundance Film Festival) 
Floria Sigismondi's film, based on Cherie Currie's memoir Neon Angel: The Cherie Currie Story, recalls the story of Joan Jett (Kristen Stewart) and Cherie Currie (Dakota Fanning), two rebellious teenagers in Southern California who become the frontwomen for legendary 1970s rock group The Runaways. The film dives into the relationship between guitarist/vocalist Jett and lead vocalist Currie as they navigate a rocky road to stardom under the eye of their abusive manager. 
"Acclaimed video artist Floria Sigismondi directs from her own script, and her luscious camerawork captures every sweaty detail — from the filthy trailer where the women practice to the mosh pits of Tokyo," writes Trevor Groth in the Festival Program Guide. "The Runaways is an ode to an era and a groundbreaking band." Check here for viewing options.
Green Room (2016 Sundance Film Festival) 
The Ain't Rights are struggling. A punk band stuck on a failed tour, they're looking to play any gig to make enough money to go home. But when their bassist witnesses something horrific backstage at a local skinhead hangout where the band has resorted to playing, management locks them in the green room while they control the chaos. 
Written and directed by Jeremy Saulnier, "Green Room is a brutal siege thriller that makes swift, logical action set pieces look easy. The cast (Anton Yelchin, Alia Shawkat, Imogen Poots, Mark Webber) revel in playing these against-type roles — especially Patrick Stewart as the sinister owner of the club," writes Charlie Reff in the Festival Program Guide. Check here for viewing options.
Sing Street (2016 Sundance Film Festival) 
It's Dublin during the '80s, and everyone is getting hit hard by the recession. When young Conor is forced to leave his private school to attend a rough inner-city school, he decides to start a band, mentored by his older brother, in hopes that will help him adjust to his new life. As he begins to compose his own lyrics and the band starts to find its groove, Conor also tries to win over the mysterious video vixen of his dreams.    
"[Writer-director John] Carney's nostalgia isn't only for a bygone Dublin and its soundtrack, but for that moment when you pour your heart into something, and it can mean everything to you. When songs can save your life," writes John Nein in the Festival Program Guide. Check here for viewing options.
Juliet, Naked (2018 Sundance Film Festival) 
In Jesse Peretz's film, based on the book of the same name by Nick Hornby, Annie (Rose Byrne) is in a long-term relationship with Duncan (Chris O'Dowd), who's a superfan of rocker Tucker Crowe (Ethan Hawke). On the surface, it's as though Duncan is more dedicated to Crowe than to Annie, much to her dismay. But when an acoustic demo of Crowe's hit record from 25 years ago arrives in the mail, it leads to a life-altering meeting between Annie and the musician himself. 
"Featuring remarkable insight about love and loneliness, and enlivened with a fantastic soundtrack that will have you humming as you leave the theater, Juliet, Naked is about the struggle to live up to one's promise and serves as a humorous testament to the power of music to guide the heart," reads the Festival Program Guide. Check here for viewing options.
Blinded by the Light (2019 Sundance Film Festival) 
Gurinder Chadha's film is set in England in 1987 and centers on Javed (Viveik Kalra), a British Pakistani teenager who learns to find his own voice through the music of American rock star Bruce Springsteen. What Javed really wants is to be a writer — something his father doesn't approve of. But when a friend loans him a few Bruce Springsteen cassettes, Javed's life is forever changed. 
"Based on the memoir Greetings from Bury Park by journalist/writer Sarfraz Manzoor, Blinded by the Light is a comedic, joyous musical companion piece to writer-director Gurinder Chadha's 2002 hit film Bend It Like Beckham," reads the Festival Program Guide. "Heartwarming and inspiring, Javed's story reminds us of the transformative, universal power of music to transcend race, class, and nationality and bind us all on a human level." Check here for viewing options.
We Are Little Zombies (2019 Sundance Film Festival) 
When four 13-year-old strangers meet by chance at a crematorium after they have all recently lost their parents, they realize they have something else in common: They're devoid of all emotion. On a quest to recover their ability to feel, they start dressing in rags from a garbage dump, find some musical instruments, and form a rock band called Little Zombies. Writer-director-composer Makoto Nagahisa took home the World Cinema Dramatic Special Jury Award for Originality for his film at the 2019 Sundance Film Festival. His project was also supported by Sundance Institute's Talent Forum in 2019. 
"Mixing inspiration from film, television, music, and, most importantly, video games, Nagahisa dazzles with a myriad of cinematic tricks, and he pushes his script in zany directions while never losing sight of its sympathetic exploration of grief and loss," reads the Festival Program Guide. Check here for viewing options.
Dinner in America (2020 Sundance Film Festival) 
The police are looking for punk rocker Simon (Kyle Gallner) — again. When he meets the eccentric Patty (Emily Skeggs), she offers him a place to hide, not realizing that Simon is actually the anonymous lead singer of her favorite rock band. The two soon embark on an epic journey together through America's decaying Midwestern suburbs and find that they're a lot more similar than they thought.
"Without compromising his surprisingly sweet touch, writer-director Adam Rehmeier explores how two misfits find each other through music and chaos," reads the Festival Program Guide. "Set to the beat of brilliant original songs, Dinner in America is an empowering and wild ride through the places and people of suburbia — in all their peculiar forms." Check here for viewing options.