(L–R) Joan Tewkesbury and Joan Darling at the 2018 Sundance Institute Directors Lab (Photo by Brandon Cruz)
By Lucy Spicer
It's easy to feel cynical these days. We're encouraged to turn our hobbies into side hustles. Think pieces question the value of the humanities in education when there are more "marketable" majors for students to pursue instead. The internet is awash with images presented as evidence that artificial intelligence is destined to supersede art made by humans.
But talk to Joan Darling and Joan Tewkesbury for an hour, and you'll remember that not everyone's out for profit. They're here for the artists and their stories.
As well as being celebrated figures in the entertainment industry — Darling was the first woman to be nominated for an Emmy for directing, and Tewkesbury penned the acclaimed screenplay for Nashville (1975) — Darling and Tewkesbury (lovingly referred to as "the Joans") are consummate teachers. They've been teaching forever — including, for the past 30 years, at the Sundance Institute labs.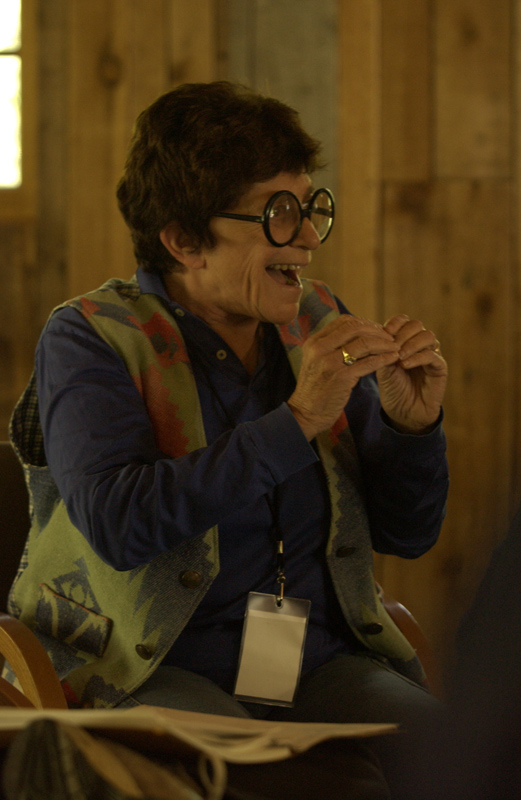 "When I got to Sundance, it was a whole place full of people I really admired, and I found that my values were shared in the business," says Darling in a Zoom interview. Her first stint as a creative advisor was at the 1993 June Screenwriters Lab, and she's returned for the Directors and Screenwriters Labs almost every year since. "It's the ethos of Sundance, of valuing process rather than product, trying to teach a person how to become an artist, not just able to deliver the goods in a sitcom," she says. 
"It was very heartening to me, because then I went back out into the real world and was more brave about creating my own style," she continues. "I did things differently and did them kind of fearlessly differently because I had the reinforcement of people that I really admired and whose work I admired who shared the same values."
Joan Tewkesbury felt the pull after a phone call with Michelle Satter, Founding Senior Director of Artist Programs at Sundance Institute. "Michelle called, and I hadn't met her yet," recalls Tewkesbury in a Zoom interview. "She explained what was trying to be established at the labs. And I've taught my whole life, and the whole attitude around the idea of the lab was for it to be without a hierarchy, that everybody was equal." Since her first June Screenwriters Lab in 1992, Tewkesbury has acted as a creative advisor at more than 60 Sundance Institute labs, workshops, and intensives. 
Darling and Tewkesbury have been friends for decades, and their dual presence at the Directors and Screenwriters Labs has had a profound impact not only on the lab fellows, but also on other repeat creative advisors — Ed Harris, Randa Haines, Keith Gordon, and Gyula Gazdag to name a few. 
Their dedication to the development of emerging independent artists has woven Darling and Tewkesbury into the fabric of the Institute labs.
"I think one of the reasons why I love teaching is I'm one of those people who, if I learn something cool, I can't wait to say, 'Look at this! Look at how cool this is,'" says Darling. "If your student thinks they love you, they don't love you — they love the information you're giving them.
"But I love the information. I love somebody else loving the information."
For Tewkesbury, teaching is about being brave and telling the truth. "It's really about exercising a way of encouraging people to go further and to be braver. And it's one of the few places that, in this industry, you can encourage people to do whatever they feel is correct, that no one is going to stand over them and say, 'Oh, you're going to do that?'" she explains. 
"There are times when the fellows simply do not agree with the advice that they are being given. And that's fine. I always say, 'You don't have to do anything I tell you to do. But you might think about it.' And sometimes it can get edgy, and it can get poignant, and it can get very funny. But it is such a nest of ideas and energy — that energy comes from the spontaneous discussions over the same material."
Often the lab fellows are intimidated when they first arrive on the mountain. But the Joans know there isn't time for that. Tewkesbury's workshop "Designed Obstacles, Spontaneous Response" compels the fellows to get vulnerable — immediately. She gives them prompts, then designs questions from their responses that encourage the fellows to dig deeper into their characters. "It's also about the marriage of self with the character that they have written," she explains.
"People always say, 'Well, you shouldn't write about yourself.' Well, who else are you going to write about? Only you are of a different name, and you become a character. All this information is inside of you. So it's crazy not to access it, pull it up, and use it if the situation calls."
Joan Darling's approach to facing insecurities has become a mantra for filmmakers who go through the labs: "I don't have the answer to that… yet."
"In being creative, there's no such thing as a mistake. You get an idea, and you think, 'Oh, this is it.' And you try it out, and you get to the end of it, and it doesn't work," she says. 
The trick is not to stop there. "I'll go, 'That didn't work. But I think what we should try is this, which is another road to go down.' And this I know in my heart as an artist: If you're not willing to go down the roads that don't seem to turn out — but that lead you to the perfect answer — you'll never get to the perfect answer. You have to be willing to go through the process.
"I fell in love with the excitement of not knowing something and trying stuff, and then the great 'Aha!' moment where you go, 'Oh my God, that's what it is. That's what we're doing. That's what it looks like,'" continues Darling. "Some of the nicest moments that were created in my work came from what an actor would ordinarily consider a mistake and stop."
When Darling and Tewkesbury were just starting out in the industry, only a handful of film schools existed, and directing and writing opportunities for women were thin on the ground. Nowadays, aspiring filmmakers have more avenues available to them through which to learn their craft, but the Joans believe that artist programs like the Sundance Institute labs remain as crucial as ever. 
"The kids come in stuffed with stuff now. In the early days, there were practically no film schools, so everybody was trying things on their own," notes Darling.
"So they come in knowing how to do it, having skipped the part of their education of how to be creative, how to be an artist, how to not know where you are and find your way to the best answer," she explains.
Tewkesbury concurs. "The ones that come to you out of film school are very trepidatious in the beginning to break the rules. There are those that fear that they will get in trouble," she says. "We just go, 'No, there's no trouble here — unless you don't do what you can to do better for yourself.'"
Returning creative advisors like the Joans get to witness these shifts as they happen, so they can adjust their teaching styles accordingly. "The advisors have become more and more and more dedicated to telling the truth," notes Tewkesbury. "I don't care if you've been to three festivals, gotten 14 prizes — it all comes back to telling the truth of the story that you're telling."
The range of experience displayed in the cohorts of fellows may have changed over the decades, but watching these filmmakers blossom in the labs is as exciting now as it was 30 years ago. 
"You watch them grow as artists; they watch you grow as artists," observes Tewkesbury. "Just in the dialogue that [the creative advisors] have about the fellows, we understand that we've all gotten a little wiser and a little dumber, which is really good because nobody can get by with ego there." 
"It was a shining center of my work life for 30 years of it," says Darling. "As the years went on, the lab was the more important experience to me than the directing and the acting was."
"[The labs are] an open door to becoming the best that you possibly can be," sums up Tewkesbury. "And I think that's why we all go back — because you get to watch that happen with people, and it's absolutely thrilling. There's so little of that in our lives right now with the state of the world. So to see something that has a beginning and a middle and a thrilling end is pretty good."