Pictured is Miguel Arteta, a creative advisor at the 2015 Sundance Institute Directors Lab.
By Vanessa Zimmer
The ability to dance. That's the most important skill veteran filmmaker Miguel Arteta can teach participants at the Sundance Institute Directors Lab.
Not just any dance, mind you, not a waltz or even a customized independent-film boogie. What Arteta references is the invisible dance of a film director, a fluidity and balance between mind and heart — staying fiercely true to your story, but not so obstinately that you don't follow your heart "to give it a real pulse and make it come to life." 
That process involves not considering yourself the "ultimate god of this universe and these characters," as Arteta puts it. It means listening to others who might have insightful feedback to improve your story — and then sussing out those elements that will sharpen your focus and communicate your vision. 
Which, in a proverbial nutshell, is the purpose of the Sundance Institute's lab programs. The Directors Lab, in session May 30–June 13 at the Sundance Resort in Utah, teams emerging artists (called "fellows") and their projects with "creative advisors," accomplished directors like Arteta, Gina Prince-Bythewood, Ira Sachs, and many more.
"You have to protect your story and tell the story with your unique vision and your intuition," Arteta elaborates in a Zoom interview. "But it's a collaborative art form, and if you're too rigid, your film becomes boring for an audience."
Good storytelling, says Arteta, is sort of a flirtation with the audience. "I think, in the end, storytelling is the art of omissions," he says. "What you don't show is more important than what you do show, because that's how an audience becomes actively involved in the storytelling process. 
"Flirting with an audience by omitting things or not playing things in a very intense way, that's how you make an audience your partner in telling the story, and that's the joy of watching a film."
Arteta first connected with Sundance back in 1995, as a fellow in the Screenwriting Lab. He took his first three feature films to the Sundance Film Festival — Star Maps (1997), Chuck & Buck (2000), and The Good Girl (2002) — where all three found distribution. When Michelle Satter, founding senior director of artist programs at Sundance, called, he immediately exalted: I'm finally going to a Directors Lab! Come to find out, she wanted him as an advisor, not a fellow. Of course, he humbly accepted.
 Arteta obviously managed to be an effective advisor, since he's served as a creative advisor at 16 labs through the years — all while adding films like Beatriz at Dinner, Youth in Revolt, and Alexander and the Terrible, Horrible, No Good, Very Bad Day to his portfolio, as well as directing episodes of such television shows as American Horror Story and Succession.
He quickly discovered that advisors gain as much from the labs as the fellows do. He gets as good as he gives: "I always come back inspired."
"It's that feeling like, oh my God, this is just what I needed, to be among creative people without any pressures of the business and being able to just be humble myself and saying, 'OK, maybe I need to take more chances.' Every time I go to the lab, I come back and I feel more courageous."
Fresh out of one of those labs, Arteta decided to make a smaller, more experimental film. He'd made a half dozen or so movies by then. But, "I ended up making a movie with just a crew of 12 people, shot in 24 hours without stopping." The result was Duck Butter, a film about two women spending 24 hours together as a way of fast-forwarding their relationship, which played at the 2018 Tribeca Film Festival.
"It was one of the most lovely experiences that I've had making movies, and it would've never happened if I hadn't gone and taught at the lab."
Lab advisors always gush about the lifelong friendships and relationships formed at the labs, and Arteta is no exception. Twice, Arteta has felt such a connection with a young director's project that he stayed on to see it through production. The first was Miranda July's Me and You and Everyone We Know, a comedy-drama that wound up at the 2005 Sundance Film Festival and became an indie classic. The other was Michael Kang's The Motel, a coming-of-age story of a Chinese American boy who works at his family's sleazy motel, which was also well-received at the 2005 Festival.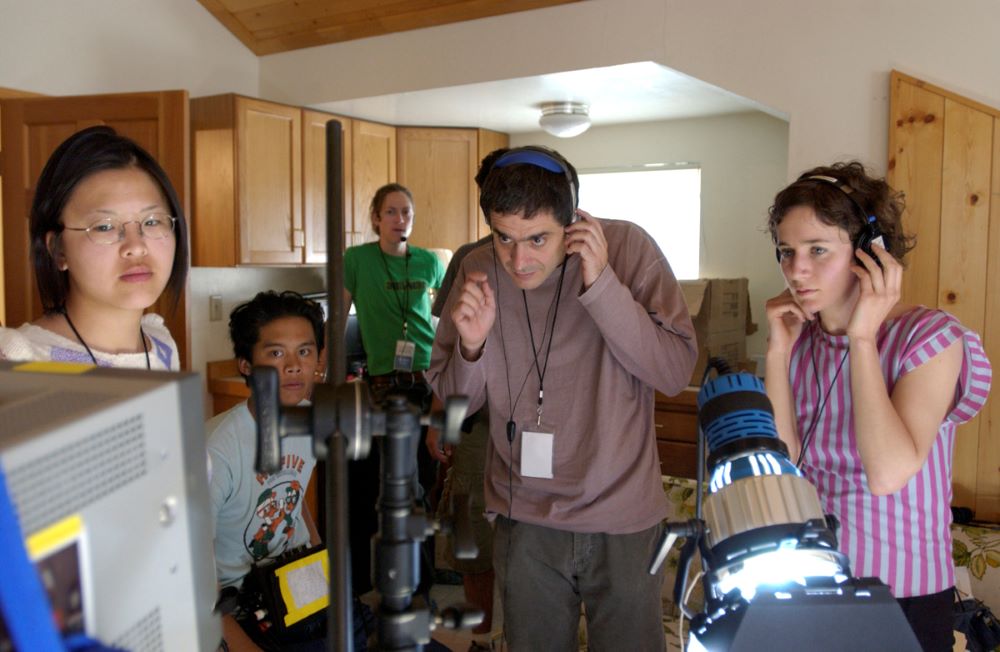 Arteta can't stop himself from singing the praises of the Sundance Institute, founder Robert Redford, and standard-bearer Satter. He is moved by the influence of this four-decades-old organization.
Back in the late '70s, art houses (art-film theaters) began flourishing in the United States. The foreign films playing there attracted flocks of movie lovers who appreciated the personal and honest voices of their makers, Arteta says. Redford and Satter saw the need to develop retreats that supported new American filmmakers as the artists developed their stories — away from studios and bean counters and the business of Hollywood. 
"They created the labs, and it's just so touching how quickly independent voices in America started to show up from the lab directly," says Arteta. "The history of independent cinema is so tied to the lab. You have from the first year Gregory Nava doing El Norte, to people like Quentin Tarantino and so many others. The mission, it's so lovely how quickly it got accomplished."
The Institute established a safe environment in the labs, where filmmakers could dare to experiment and stretch, make mistakes, and regroup. New filmmakers gained confidence, their voices became stronger, the Institute flourished, and Sundance-supported films began winning Oscars and other awards. 
Around 15 years ago, the Institute saw the need to introduce international filmmakers to the mix. "[Redford] was, like, I think the world is growing smaller and American voices now need to be also more sensitive to what's happening in the rest of the world. We don't want to be that sheltered," Arteta says, adding: "I saw that transition because I was there."
Again, Arteta saw the effects quickly, within a decade. "I think American films became more political and just much more mature," he says. "I'm so extremely proud of the labs for the jobs that they have done. The world is [a] hard place to change. It's very hard to think that individual actions have big ramifications, but it's very beautiful to see."
To learn more about Sundance Institute's labs and other artist programs that support emerging independent filmmakers, click here.