By Vanessa Zimmer
From our London edition to our Indigenous shorts tour, by now you realize that the Sundance Film Festival doesn't happen just in January. Even now, if you join the Sundance Institute as a Member by the newly extended date of July 18, you can get your own private screenings, from the comfort of your own home, of 12 short films from past Festivals — including the 2021 Short Film Jury Award winner in the International Fiction category.
That award-winner was Bambirak, a gentle, moving film about a father and young daughter trying to make a new life for themselves as refugees in Germany after fleeing from Afghanistan.
The Sundance Film Festival Shorts Program, presented by XRM Media, allows Members online access to watch the collection, which also includes UnLivable, Five Tiger, Forever, The Fire Next Time, Raspberry, Mountain Cat, This Is the Way We Rise, White Wedding, BJ's Mobile Gift Shop, The Fourfold, and Excuse Me, Miss, Miss, Miss.
And that's not the only benefit of joining. Membership also offers invitations to in-person private screenings, early access to Sundance Film Festival tickets, and more ways to stay connected with other Sundance-supported artists throughout the year.
So, it's time to get excited about one of those year-round benefits — this shorts collection. In a four-part series, we introduce the short films and their directors from the 2022 Sundance Film Festival Shorts Program.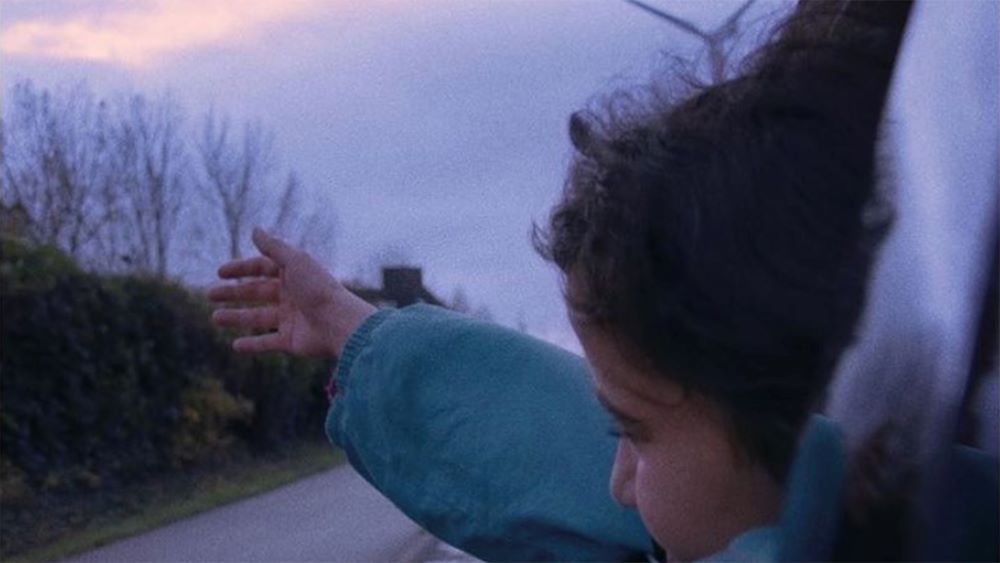 Bambirak, written and directed by Zamarin Wahdat
Kati, the 8-year-old daughter of single father Faruk, hides in her father's van one morning as he starts on his rounds delivering packages. They are new Afghan refugees in Germany, and this is his first job. Grandmother isn't home to spend the day with her, and Kati is eager to show that she can help.
The bearded, kind-faced Faruk is reluctant, but as the day wears on, father and daughter bond. She directs him from the map to the next stop. Soon, she is asking customers to sign for their packages. "Do you have a pen? You can use mine."
When they stop for a lunch break, they playfully interact. It is dark by the time they park near a flower shop. Without revealing too many details, the father-daughter trust is tested by a racist incident.
Writer-director (and sometime cinematographer) Zamarin Wahdat wanted to address racism against refugees through the lens of a child. "As children, we always try to understand the world around us as it is," she says. "We don't judge, but experience it. I feel growing up we lose this connection… As adults, we think rationally in order to understand. That is why I think it's important to step back into the point of view of a child in order to understand."
The story mirrors Wahdat's own experiences of being born in Afghanistan and growing up in Germany. She remembers spending a day at work with her highly educated father, who also delivered packages. "Somehow in that time, I suddenly felt sadness and realized this is what my father does for work, because in this system, all his knowledge and his work experience as an engineer does not count."
His new country did not recognize his educational credentials nor his work history. Wahdat began to understand: "He knew how it felt to be treated differently, whereas I had no comparison how life without xenophobia feels like."
Bambirak won the Short Film Jury Award: International Fiction at the 2021 Festival.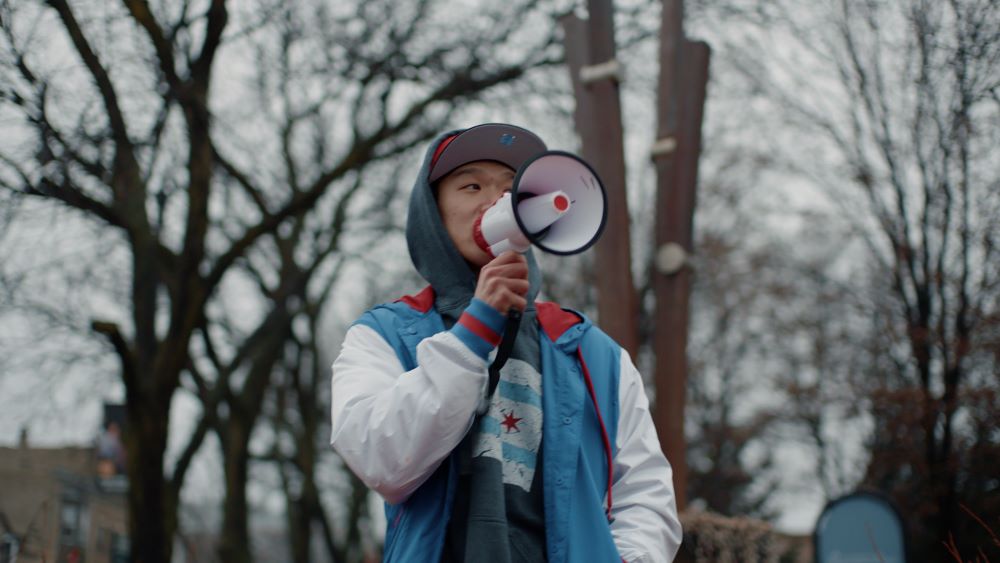 BJ's Mobile Gift Shop, written and directed by Jason Park
Armed with a megaphone and an oversized red suitcase on wheels, Byung Jun Lee ("You can call me BJ") makes a living on the streets of Chicago. 
The unassuming bag, from which the young Korean American magically pulls whatever it is his customers need in the moment — a clean shirt, a charger, his grandmother's kimchi — is BJ's Mobile Gift Shop. "You're moving way too fast and can't keep track of all your shit," BJ announces through his megaphone. "But, don't worry, BJ's got you."
And then comes a pivotal moment when BJ runs into an old classmate and a group of professional friends heading to lunch. "I think all of us at some point have been in a conversation where your work, or not to be so dramatic, existence, feels dismissed or disrespected," says writer-director Jason Park.
"How BJ reacts and ultimately behaves through this uncomfortable exchange… says a lot about him…"
Johnnyboy Tellem, whom Park describes as having a "lively and colorful personality," plays the earnest BJ. Tellem and Park knew each other and kept in touch over the years. "When I was working on the script early on and starting to get a sense of this character, I started to see Johnnyboy in my head, and that guided the writing," says Park. "Ultimately, there was really no one else I could see playing this character, and so when I reached out to him about it, I was stoked but also relieved he was down, because there was no plan B."
The short film was inspired by, and shot in, Park's hometown Chicago. "I started to have this deep yearning for home and making something not only in Chicago but that also felt like the city I was born and raised in," says Park. "In a lot of ways, BJ embodies so much of the spirit and mentality of Chicago, so the goal was always to shoot back home."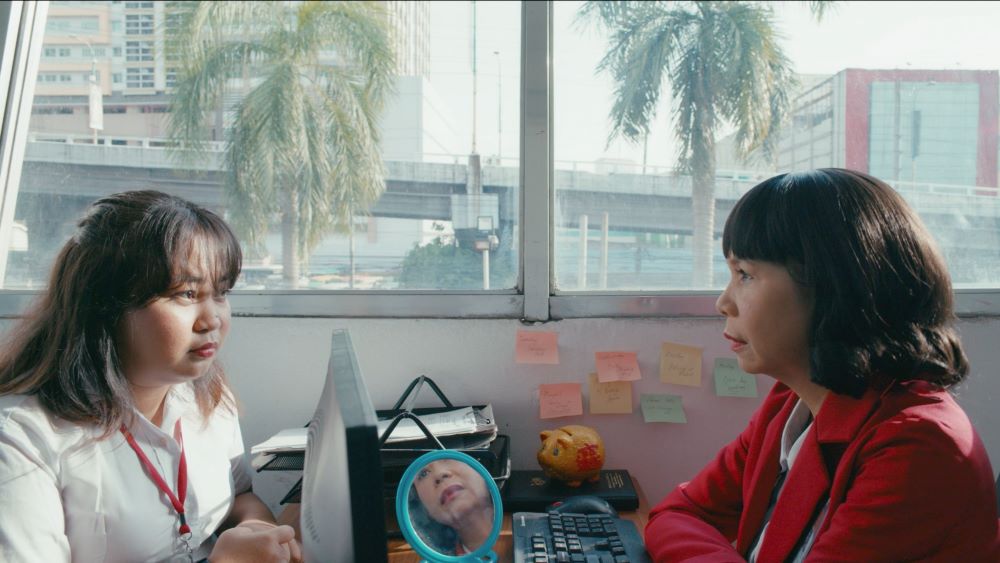 Excuse Me, Miss, Miss, Miss, directed by Sonny Calvento
What does it take to succeed in your job in the Philippines? Well, it's certainly not yawning while on duty, contractual saleswoman Vangie (Phyllis Grande) finds out. Faced with losing her position in a department store, the income from which helps support her sick mother, Vangie sets off to the home of her severe boss Ma'am Charo (popular character actress Angelina Kanapi) to beg for her job.
Not that she particularly enjoys the work. How could you, with 10 overtime shifts in a single month, rude customers demanding directions to the nearest gas station, and other nonsense?
Director Sonny Calvento says the short film evolved, in part, from his experience as a contractual worker for a television network after graduating from college. "I got renewed every two years, so the pressure of having to perform well to make sure that I was 'good' enough to be rehired had always been there," he says. "But of course, it was nothing compared to what other contractual workers in the Philippines are going through. They are the ones who are exploited, overworked, and underpaid, only to be laid off after six months."
Calvento isn't optimistic for the future, either: "Our country just elected the son of the world's most corrupt leader in history — Ferdinand Marcos. And now, we are facing threats after having our history revised and erased for the sake of their family's name. I hope that censorship will not worsen during his administration.
"We just lost the biggest television network during (Rodrigo) Duterte's term, and now it seems like we are becoming more powerless." 
That makes the roles of filmmakers like Calvento and writer Arden Rod Condez all the more critical. "I think now is a more important time to be a filmmaker and tell our struggles to the world," says Calvento. "It means the world to have the support of a festival, like the Sundance Institute, that celebrates our stories."
Next week: Stay tuned for part 2 of our series on the 2022 Sundance Film Festival Shorts Program.
By Stephanie Ornelas Greek philosopher Heraclitus once said that the only constant in life is change. It's safe to say the phrase continues to resonate
Read More »
It's Emmy season, and the Academy of Television Arts and Sciences has spoken. We're thrilled to see that six Sundance Festival projects have made the
Read More »
Picturehouse Central, 9 July 2023 — Sundance Institute and Picturehouse announced tonight that the 2023 Sundance Film Festival: London's Audience Award is presented to Past
Read More »